Helping you Navigate the World of London Baby Photography
Your baby's first year is a magical time. Capturing these first twelve months with the help of a professional baby photographer will record these precious moments for ever.
You'll have beautiful images for your family to look back on in wonder for generations to come.
As a specialist baby and family photographer, I've photographed thousands of families, many of them multiple times.
And I'd like to share my advice about what to consider when choosing a London baby photographer and how to prepare for the photo shoot.
This London baby photography guide will steer you through the process and ensure you end up with the very best pictures possible.
How to Choose your Baby Photographer
Google 'London baby photography' and you'll more than likely feel a little bamboozled.  Photography is an unregulated industry, so you'll find different skill levels varying from highly experienced professionals to those just starting out. You'll also find a wide difference in price.
Where are you supposed to start?
The answer is style. The photographer's particular style is the very first thing to look at.
The main distinction here is whether they work in clients' homes, like I do, or in a studio. The style and variety of images you can expect are very different between the two and it's a matter of personal choice which you prefer. So explore photographers' websites, their blogs and Instagram posts. Make sure you see a wide variety of pictures from photo shoots so you know they're experienced working in your ideal style.
For example, I photograph in a very natural style and entirely using black and white. I'm looking to create a wide variety of images for you: full family groups, individual portraits of your baby and plenty of pictures as you all play and interact together.
Style decided upon, you can switch your focus to skills and experience. Well-established baby photographers will have a wide range of different images on their websites. They'll usually also have active blogs and Instagram pages to showcase their work and approach.  Have a thorough read of their online reviews too and keep a look out for accolades, awards or the occasional sponsorship by major brands.
I'm the only family photographer in Europe to be sponsored by Canon so you can be completely confident in the quality of my work. I have a dedicated section on my website which highlights recent publications I've featured in.
How Much Will It Cost?
Just as skills can vary from one photographer to the next, so too can the fees they charge. Many photographers who are just starting out are operating at cost, or less than cost as they build that all-important portfolio.
Experienced photographers will charge accordingly to reflect the high cost of running a successful business. Expect to pay VAT for the very best as a busy London baby photographer will be operating above the threshold.
Quality photography is an investment that your whole family can enjoy for generations to come. A photographer who charges more can be excellent value.
When they have a high rate of returning clients, you'll be reassured that they offer a service that goes above and beyond. And that's worth paying a premium for.
You'll also know they offer the best quality printing and framing options. Check if they can provide fine art archival prints. Are the frames hand-made and bespoke or repackaged offerings from a high street store? Are albums durable enough to stand the test of time?
The best photographers will use the best products, leaving your family thrilled with the results.
What's the Best Age to Photograph Your Baby?
One of the questions I'm asked most frequently as a London baby photographer is: when should I photograph my baby?
For many, it's something they only do once so the timing of these precious portraits is worth thinking about carefully.
There are so many milestones in their first year. Would you like photographs of those irreplaceable first few days? Or maybe you'd prefer to wait until your baby is smiling or sitting up?
Over the years, trends have altered. When I started out as a photographer back in 2003 the main fashion for London baby photography was to take pictures at about eight months old. Baby is sitting up, smiling, interacting with the world and maybe beginning to crawl. Now the trend has moved towards newborn photography that records those magical first days when your little one is so tiny.
Both options are fantastic, and both give very different results.  If you're finding it hard to decide, here's some helpful guidance to ensure you get images you'll treasure forever:
Newborn
Photographing babies when they are newborn is an increasingly popular way to welcome your little one into the world. It's a truly unique time to create beautiful and timeless images of those wonderful first few days that go by in the blink of an eye.
During those whirlwind weeks, a newborn photography shoot gives you an opportunity to slow down and focus on your baby. The pictures will forever take you back to these first moments as you bond as a family.
Newborn pictures are best taken within the first fortnight, when your baby is tiny and new. They'll be completely oblivious to the camera as they snuggle with their parents and snooze happily in front of the camera.
The best photographers will ensure sessions are relaxing and enjoyable for everyone, working around baby's needs. They can often involve hour-long feeds but for me, this isn't a problem. I only do one session a day so there's never any rush.
Because the window for newborn photography sessions is so short, it's best to book a date before your baby is born. Days 4-6 are perfect. If your bundle of joy arrives early or late, it should be easy to reschedule with your photographer. I always aim to accommodate changes while baby decides on their arrival date.
If you're unable to arrange a session before the three to four-week mark, it's best to wait a little longer before hiring a professional photographer. Once they've passed their teeny tiny newborn stage, photographs tend to be limited to your baby being held or lying on their back.
Aged 12-16 weeks
By this age, babies have begun perfecting their smiles for the camera. And because they're developing neck strength, the options for charming pictures are more varied.
They can lift their head when lying on their tummy, sit up in a Bumbo chair for portraits and share their delight at a favourite toy. Babies will also be interacting with the whole family now, still tiny but sharing their blossoming personality.
With me, these sessions are relaxed and follow a story-telling approach: your family in your home and your favourite places, doing all the things that you love to do. You might have a favourite chair you like to nurse in or a favourite game to play on your bed. These are the everyday things to record in your pictures, the things you will want to remember.
Beautiful black and white pictures mean the images will be timeless: your child will be proud to share them when they reach their teenage years.  Real moments, real expressions and real interactions that will make you smile and make you laugh.  This is what it's all about.
Aged 6-8 months
This a delightful time for taking pictures. Babies will be sitting up and some may even be beginning to crawl. Active and curious but often not yet on the move, this age provides wonderful photographic variety.
Splitting the session in two, half indoors and half outdoors, separated by a morning nap, will produce very different types of picture from each location.
Indoors, they can be splashing in the bath, rolling on their bed examining their toes in awe, or playing with a special toy.
Outdoors, if the weather is kind, it's lovely to see little ones surrounded by nature, their inquisitive faces alight with wonder at trees and shadows.  There are so many fabulous locations in this wonderful city that will be perfect for your London baby photography session.
When you opt for a natural, relaxed style, a shoot at this age can produce magical images that capture your baby's unique spirit.
Aged One
Twelve months on and your little one will be on the move, crawling, maybe toddling around happily while they explore their world.
Baby photo shoots at this age don't need to be about their first birthday. They can simply focus on the love, laughter and fun of your family's daily routine.
Images taken now can capture everything you love to do together: singing a favourite song, reading a treasured book or feeding the ducks. Their sense of humour and personality will shine through in beautiful pictures that record these simple memories. You can then print them in an album or hang them on the wall to enjoy every day.
Can Siblings Can Join in Too?
Brothers and sisters should always be welcome in any baby photo shoot. It's all about family. Add an older sibling or two to the mix and it brings a wonderful kind of chaos that creates very special pictures.
As the youngest of four children I find family dynamics a joy to photograph. There's something so wonderful about the look a toddler gives to their new baby sibling. They can be both excited and non-plussed by a tiny new playmate: "This is my brother" and "This is my dinosaur" being announced with equal solemnity.
When sessions are really relaxed and spread out over a whole morning, there's no pressure on the children to perform or pose. During our time together I make sure to take brilliant pictures of all your children, naturally capturing their personalities and interests.
Before a session, we can chat on the phone or via email to discuss each child's routine. This helps to make the most of our time and of course results in the very best pictures while we all have fun together.
Baby Photography at Home
When you have your baby photography session at home, rather than in a studio, you're where your memories will play out. And this is what family photography is all about.
Practically, your home is the perfect place as you have everything to hand to make you and your baby relaxed and comfortable.
It also means we have the flexibility to go outdoors to your favourite parks or play areas which adds lovely variety to your images. Older babies might enjoy the swings or playing in the leaves, younger ones being held by their parents amid the flowers or being cuddled while they watch the ducks swim by.
Doing half the session outdoors will capture a wider range of memories. New parents often tell me they now, while pushing their little one in a pram, explore their local areas so much more. Different worlds open up and wonderful new memories are made.
Will the Session Fit Around Our Daily Routine?
A great baby photographer should always base sessions around those all-important routines. Babies are always happiest when they've eaten and slept as normal, giving us more chance of lovely, smiley pictures.
On the day of the photo shoot, I like to start early as I find that little ones are at their best first thing and I'm happy to travel to you to arrive at 8am. This way I often catch the end of breakfast and then we can maximise our time to play before your baby's mid-morning nap.
There is often an hour or so of photography at this point before the little one has a sleep and the adults enjoy a cup of coffee. Then, when they wake up, we have a second session giving you the best chance for a wonderful and varied set of images.
Before the session it's worth spending some time thinking about all your baby's favourite things to do so we can record these early activities in your baby photographs.
Does your baby love rolling around on your bed? Or maybe looking out of the window and watching the cars go past? Do you read to them on a particular chair or wrap them in a favourite towel after a splash in the bath?
My job is to record your everyday world in beautiful pictures so think about all the things you will want to remember and we can go from there.
How Long Do Baby Photography Sessions Last?
Like style and experience, the time taken to photograph babies does vary from photographer to photographer.
For my sessions I tend to take a morning as I want to give us every opportunity to take the very best pictures while sticking to your normal routine and ensuring things stay relaxed. This means your baby can sleep when they want to and have breaks as needed.
My sessions are about four hours, from 8am to 12pm or thereabouts. This gives us time to do different things, go to different locations and still allows your little one to have their mid-morning nap and be ready for lunch at their normal time. A win-win for everyone.
This shouldn't be about racing against the clock. It's about staying relaxed, enjoying the session. For the little ones, it's the perfect morning, spending time with their parents and enjoying their favourite toys and games.
Sometimes a baby photo shoot can over-run, particularly with newborns as we work entirely around the baby. Occasionally they do choose photo shoot day to have a mammoth four-hour feed. I only do one session in a day so there is never any time pressure. You can be absolutely sure I won't be rushing off to photograph another family before I have taken all the pictures you need.
How to Prepare Your Home for an Indoor Baby Session
The best thing about baby photography at home is that the pictures will be brimming with memories. They'll be full of familiar things: your bed, your child's nursery, their toys, their cot. You might want to tidy up things that will distract you in pictures but don't remove the things that make a house a home.
A good plan it to clear bedside tables in the master bedroom and to put clean bed linen on. We'll usually take some baby photographs on your bed where your baby will be happy and safe rolling around. You may wish to iron your sheets but only if creases annoy you, it's such a personal preference. Plain coloured duvets, sheets or throws work very well in pictures but if you love patterns then patterns it is. They're your pictures after all.
If your baby can sit up then we may take pictures in your sitting room or family room. Like many London baby photographers, I'll be working down on the floor with your child so, if you have a moment do a quick sweep under the sofas. Those runaway socks or DVD cases can spoil a great picture.
Most importantly, relax before the shoot as well as during it. I'll be keeping an eye out on the day so if there's something distracting in a forgotten corner, we can easily move it.
What to Wear for Your London Baby Photography Session
Simple, plain-coloured clothes tend to work best for everyone, as do those with a subtle pattern. It's best to avoid bold stripes and checks. Also, dressing in a mixture of black and white can create a distracting contrast. If it's wet underfoot, please avoid dressing a toddler in white or light-coloured tights as the chances of falling over and getting muddy knees is high.
I'm happy to advise on what clothes will work best, so please feel free to lay out a selection before I arrive and we can choose the best outfit together. And if I think any items your family are wearing won't work well on camera, there'll be time for a quick change before we start.
Black and White Baby Photography
One of the decisions you'll need to make when choosing a London baby photographer is whether you want images in colour or black and white.
I'm a great believer in the power of black and white baby photography. Over the years I've seen so many trends in colour photography come and go and pictures that seemed so contemporary now look dated.
Black and white is timeless. Images we take now will look good when your children look at them in their teenage years and when they share stories with their own families as adults.
I know this is true as I'm lucky enough to have black and white images from my own childhood. They hang on my wall alongside pictures I'm taking now and ones of my parents when they were children. All black and white, they fit together perfectly.
Black and white photography also allows us to really hone in on the essence of what's important in the pictures. We can focus on emotion and relationships far more closely.
By adding this layer of abstraction we look deeper into the pictures. Beautiful black and white photographs stand the test of time ensuring these memories will be treasured over the years.
I believe baby photography is for the long term. It's a delight to look at the pictures now, but they are one of the few things we have that gains in value over time. The memories become more poignant as the children grow. It's important to invest in images that will last, that won't make you cringe at choices in fashion or interior design – it all changes over time.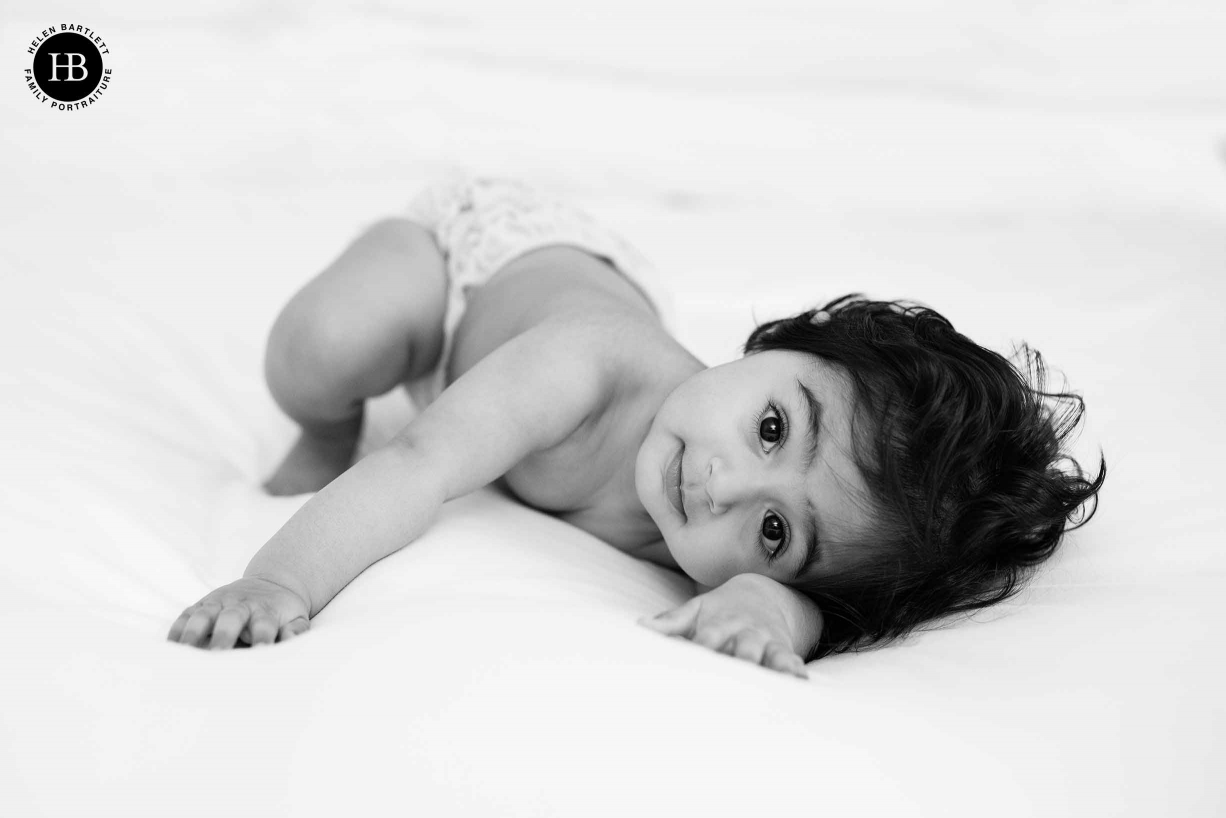 After Your Baby Photo Shoot
Although your shoot is over, your photographer's work is far from done. How much they do will again vary so make sure you check what they offer.
My London baby photography business is designed to give you the full service from taking the pictures to making sure you have the pictures printed, framed, and ready to go on the wall.
I want you to enjoy your pictures in all their glory and so, while I do sell the digital files, most of my clients choose to buy printed products, frames and albums as well as the digital files. When you have a tiny baby then time is limited and it's not good value to get a cheap disk of digital files if you never print any of them.
I'm as bad as everyone else. I still have my wedding pictures on a disk in a drawer and if I, who designs albums every week and has excellent relationships with my printers and framers, haven't got around to printing things out then what hope do new parents have?
A few weeks after your session my colleague will come and visit you to show you the pictures. We find that home visits work brilliantly. You can put aside some time, one evening after the little one is asleep or a weekend if that is most convenient for you, sit on the sofa and enjoy looking at your pictures on our big screen.
This means you can see the pictures at a decent size so all the details will be clear, can compare pictures side by side, and can choose from our wonderful product options.
I'll prepare ideas for you but there is no hard sell. My business is based on returning customers – many of whom have had annual sessions for over a decade – and so we make sure you get the pictures you want and not the pictures we think you should have.  We can make changes to album designs and select images for the wall together using technology to ensure the perfect dimensions for your home.
It's the full service and I can guarantee you will be thrilled with your baby photographs and the customer service you will receive.
Printing and Displaying Your Baby Photographs
Another important decision is to think about how you want to receive and display your baby photographs. You'll be able to choose from digital files, unframed or framed prints and albums.
Have a look at your preferred photographer's website and Instagram feed to get an idea of styles and quality. I've included plenty of inspiring options on the pricing page of my website.
I offer stunning framed prints using archival fine art papers and hand-made, hand-painted frames of the quality you would see in museums and galleries. These show your images to their very best advantage. They'll bring you joy every day as you look at them on the walls of your home.
The albums are also second to none: glorious leather covers with stunning debossed text. Lustre prints that will stand the test of time and aren't easily damaged are mounted onto thick card pages, giving the albums a real heirloom feeling.
Many clients choose to build their album collection over the years, adding to them as the family grows. Imagine the joy of inheriting childhood albums which record all your milestones: newborn, three months, six months, a year, two years, three. Your favourite toys and hobbies, your favourite games and places, all immortalised in wonderful books that you can look back on. This is the gift I can help you to give your children.
Frequently Asked Questions
You'll no doubt have many more questions about your London baby photography session. Here are some that I'm asked most frequently. You can find many more on my website.
What Happens If My Baby Is Ill?
This is a simple one. If your baby is unwell then we postpone the session. It's no fun for anyone photographing a poorly child and much better to change the date. We'll take the pictures when your little one is feeling bright and full of beans.
Can You Photoshop the Images from my London Baby Photography Session?
Again, this is a common one, we know how little ones tend to get little blemishes and it's no problem to remove these – for adults as well as babies. We all have the fear of waking up on the morning of a photo shoot with a giant spot on the end of our nose. Thanks to Photoshop this is no longer an issue. Removing dribble and biscuit crumbs is all part of the service.
I Don't Like Having My Picture Taken. Can You Make It Bearable?
I know that not everyone enjoys the idea of having their picture taken but I can promise you that the process will be painless. You will be playing with your little one and having fun.
The smiles will come naturally as you look at your baby and the pictures will be natural and beautiful. Look through the galleries online and I hope you'll feel confident that I'll make you look your best and have a wonderful time along the way.
What Areas Do You Cover?
The majority of my family and baby photography work is in London but I travel all over the world to take pictures. This year alone has seen me working in France, Switzerland and Abu Dhabi as well as Dorset, Yorkshire and Cornwall in the UK. Additional charges do apply outside the M25 so please contact me directly for a quote.
How Do I Book a Baby Photography Session?
If you've decided you'd like to book a session with a London baby photographer and would love natural black and white images, do get in touch.
We can compare availability and get your session in the diary and I can, of course, answer any questions you might have.
My aim as a photographer is to create the most fabulous set of pictures, each one a work of art in its own right and each one a compelling addition to your family story.
You can contact me via the form on the website, via email at info@helenbartlett.co.uk or give me a call on 0345 603 1373 if you would like to have a chat on the phone. I'll look forward to learning all about your family.