What do you want to remember?
This question is at the root of my family portrait work – taking pictures that reflect your lives and the places that you spend time as the children grow up. My aim is to provide you with photographs that will spark memories, memories of hot summer days running around outside or cold winter mornings drinking hot chocolate at home snuggled together with a book. Photographing families living in the Holland Park and Kensington area of West London often means I will do part of my sessions in beautiful Holland Park in W11.
How your Family Portrait Photography session in Holland Park will work
When photographing families I like to work around the usual routine – the things you would do if you had put aside a day for 'family time'. I arrive early, usually around 8am and if the kids making pancakes is part of your weekend routines I can photograph that, as long as there's a cup of coffee to be had too! The sessions are all about you and your lives.
I like to photograph the children enjoying their favourite activities – whether they are indoors, reading books, jumping on the bed or baking biscuits or whether they are outdoors, a trip to Holland Park to run around and play on the swings. Incorporating these everyday activities into your photographs means that when you look back on them in years to come you will remember all the things you did when the children were little.
Photographing children and families in this way makes it fun for everyone too – the kids always have a blast if they are running around in Holland Park or playing their favourite games at home. For adults, it's lovely having time to hang out with the children and enjoy all those activities that make life special, chasing the kids, throwing them in the air to make them laugh or those quiet moments, a cuddle with a story when they are tired at the end of the morning.
Holland Park is one of my favourite locations for children and family photography as there is so much variety in quite a small park – there are the wide open spaces for running around, the more formal kitchen garden, a variety of ponds from the fish filled tranquility of the Japanese garden to the pond near the orangery that seems to be filled with wishing pennies. There are trees to climb and wonderful additions such as the wooden thrones and the giant chess set. I always get the feeling that Holland Park W8 has so much thought and love put into it to keep it looking new and exciting and always beautifully maintained. It is such a lovely spot for children and family portrait photography.
For me, the sign of a great children's photographer is someone who is so unobtrusive that they capture the essence of your child without them even realising that they are being photographed. Helen is one such photographer – she always manages to produce great shots of my children.

Joanna
How much does it cost?
I charge a session fee, which is £450 during the week or £550 on weekends and bank holidays. This covers my time on the day and the time spent preparing your images for your viewing session. At your viewing session, you can choose what you would like to order and I offer a wide variety of beautiful options. My unframed prints are £75 up to 12″ x 8″ in size and we have a minimum order of ten. Framed prints are from £315, my stunning albums start at £1250 and a disk of digital files is included in all orders over £1,995. You can find a full price list here.
My style of Children and Family Portrait Photography
I have been working as a professional family portrait photographer since 2003 and my years of experience photographing children and families means that you can be sure that I will capture a really lovely range of photographs for you. You can expect family group shots, individual portraits and pictures of the children interacting together. I love the subtle moments – the little glances of a protective older sibling as they help their younger sibling climb a tree or the competitive excitement of a running race, everything that makes your family tick.
I work exclusively in black and white to create beautiful timeless photographs and my strong compositional style means that I can guarantee you beautiful photographs no matter what activity we do. You can get a really good feel for my work looking on the children and families galleries of my website and also my blog, where, if you type Holland Park into the search function you can get a really good idea of photographs taken in your area that will give you inspiration for your own family photo shoot.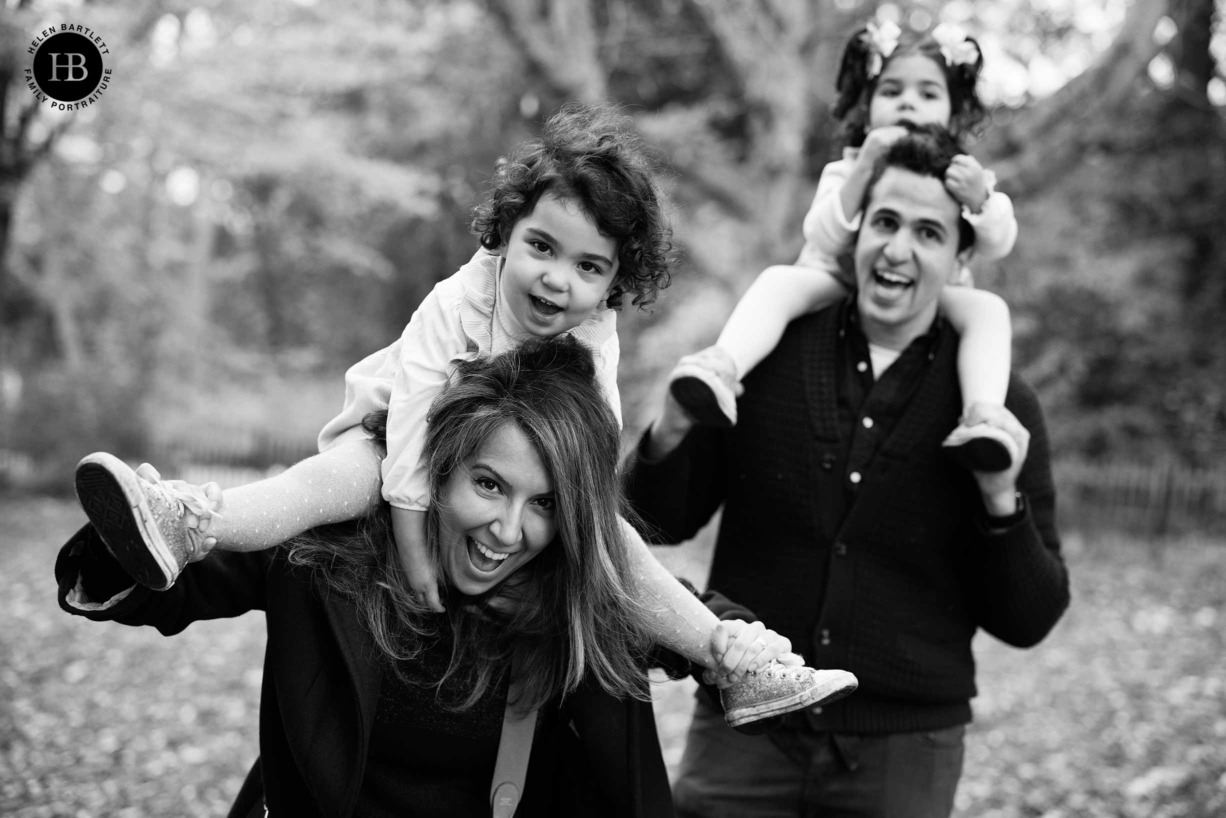 Book your Family Portrait Photography in Holland Park W11 and W8 now