Thank you for visiting my website, I hope you will like what you see and choose me for your family photography in Hammersmith.
I'm Helen and I've been a professional family photographer since 2003.  I'm based in London and regularly travel to Hammersmith to photograph children and families.
My specialism is relaxed, natural and fun family photographs that are shot with beautiful compositions and exquisite use of light.  We have a fun day together and I will create images that will exceed your expectations and delight you and your family for years to come.
Since starting my business I have become known as one of the premier family photographers in London with numerous awards and my work widely published nationally and internationally.  To let you know you will know you are in good hands; my work has been singled out by Canon as a pioneer in the genre and I'm the only family photographer in Europe to be an ambassador for the Canon brand.
How do family photography sessions work?
My family photography in Hammersmith is based around the idea that if you have fun and a wonderful morning then the pictures will reflect this.  So, we do all your favourite things.  We can play at your home (and for babies under a year old then we almost always do some of the session indoors) or we can go out to the park or we can do a combination of different things.
There are a lot of lovely locations near Hammersmith from the riverfront itself to beautiful Chiswick House or the fantastic playground at Ravenscourt Park.  We can choose your family's favourite or do number of different locations to add variety to your images.
We spend a morning together, starting nice and early when the children are at their best and brightest. Heading out straight after breakfast also gives us lovely empty parks and lots of time before lunch, family photography sessions in Hammersmith are really relaxed and loads of fun.
Have a think about your children's favourite things to do, is it play on the swings or climb trees, do they like to bake at home or run around outside or is life really all about Lego?  Let's incorporate your life into your pictures so they are full of fabulous memories to look back on as your children grow up.
Six years and three children since our first shoot with Helen, it feels like she just continues the story of our growing family each time and we love adding to our image collection. Everyone feels at ease and has fun when she is around - she just joins in with the usual family activities (and chaos!) and somehow manages to capture the most stunning, timeless shots along the way.

Jill - Five photo shoots so far!
Style and approach
My relaxed approach to your family photography session means you get lovely natural photographs.  While I always ensure I take some family group shots and pictures of your children together, a lot of the day is spent taking photographs in a documentary fashion.  I make sure you are in the good light and then let you play together, taking pictures as you laugh and enjoy yourselves together.
I work entirely in beautiful black and white as I feel this gives images a timeless feel.  The pictures I take will look fantastic now and fantastic when your children are older.  I know from my own experience of my childhood pictures that black and white removes the distractions of fashions which inevitably change over time.  Monochrome is about the power of action and emotion, of interaction and expression, the things that make a family photograph great. I will make sure that your family photography in Hammersmith look as great when your children are adults as they do now.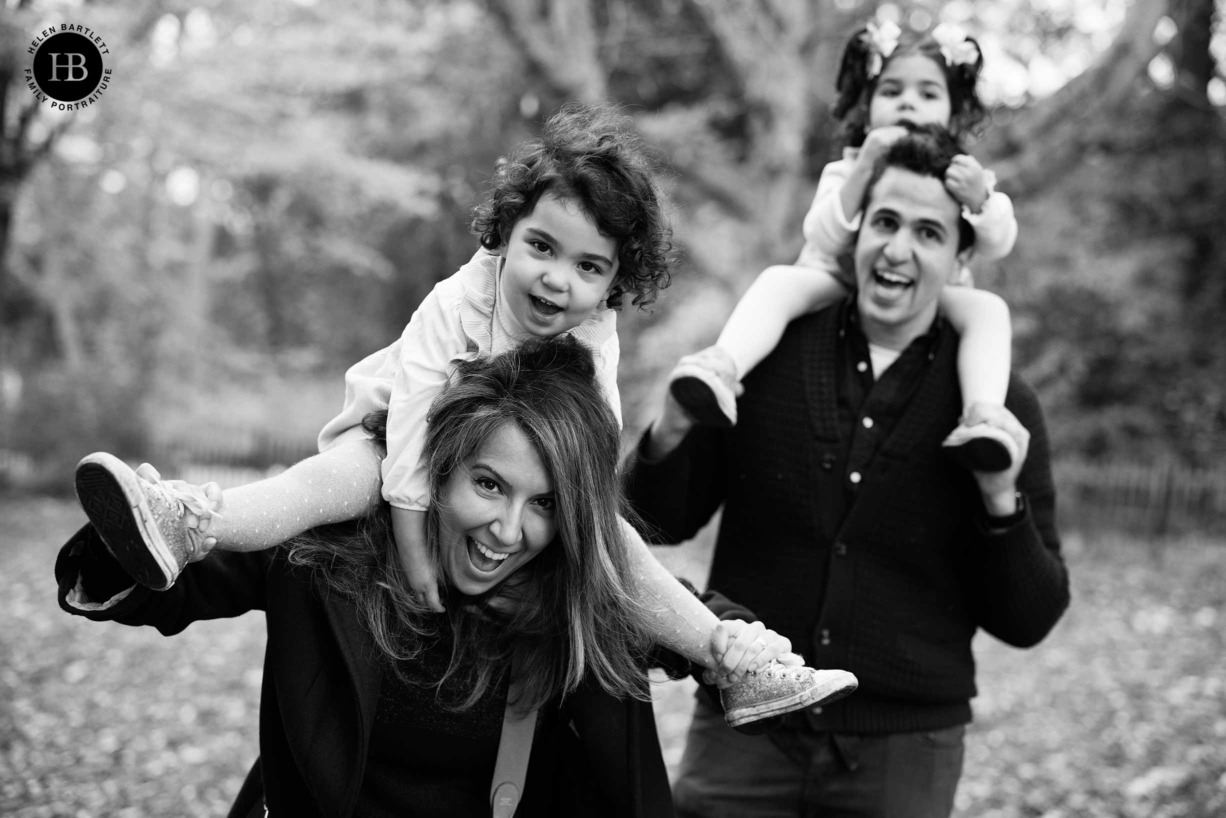 Find out more
If you like what you have read so far then do take a further look around the site.  The main pages have portfolios of my best images along with feature stories where you can look at galleries of single families taken over the years.  This shows the power of family photography, documenting children's lives as they grow.
The details are also all available on the website, our full price list is published and there are frequently asked questions if you have any queries.  Equally, you can email me or give me a call and I'd love to hear about your family and help you plan the perfect photo shoot for you.