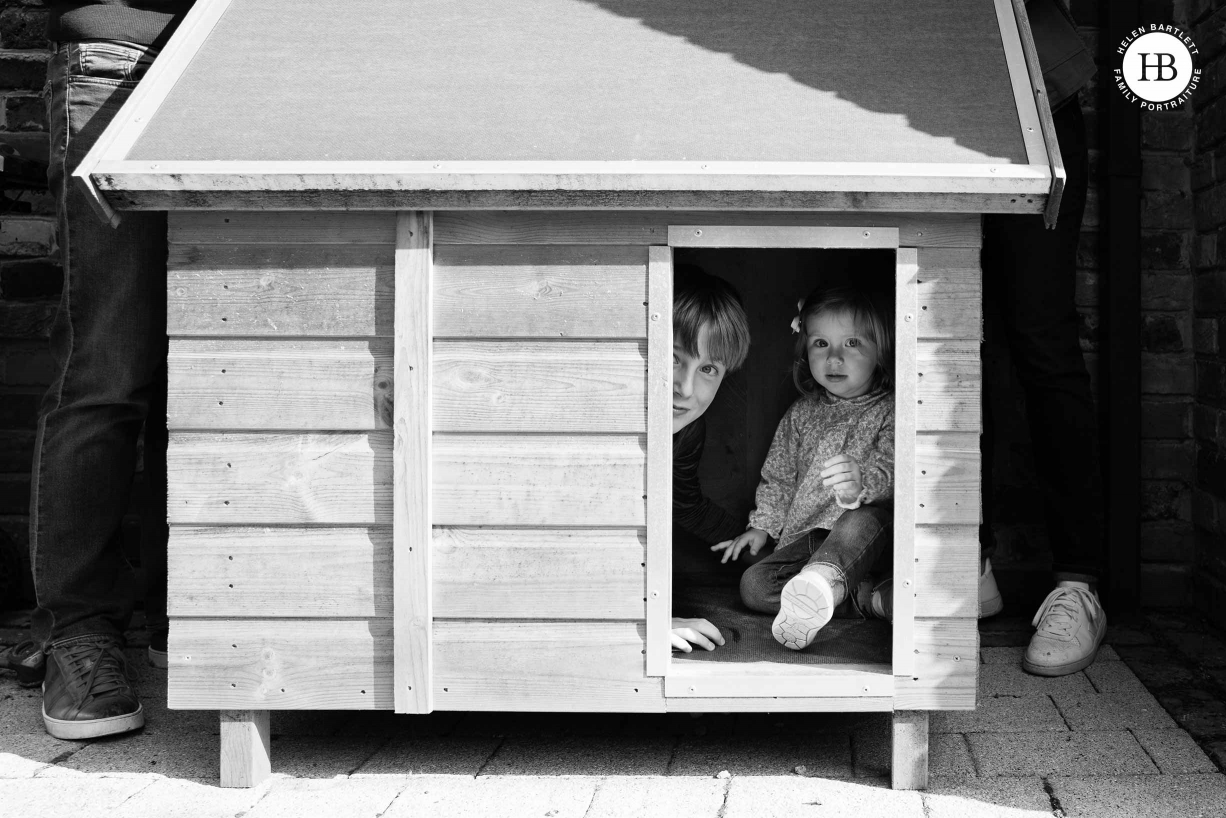 One storytelling image and one beautiful portrait
There are some shoots that I really look forward to and this recent family photography session in Gerrards Cross with Debbie and her wonderful family was one of those.  I'd first met Debbie back in 2017 when I had taken pictures of her newborn daughter and it remains one of my favourite newborn sessions I've ever done.  We had such fun both with her tiny baby but also with the two older siblings who were hilarious.  I have memories of bouncing on the trampoline, playing on the swings, jumping on beds and showers of cuddly bunnies raining down from the sky where we had thrown them as well as a beautiful snuggly newborn. It really was one of the best days ever.
And so, I was thrilled to be going back, and I wasn't disappointed we had another amazing day taking family photographs.  It's been incredibly hard choosing a single image for my sneak preview as there are so many good ones, but I like to show them to my clients first on a nice big screen before I publish lots here on the blog.
It's always fun trying to choose an image for this series – and I like to find images that, to me, sum up our day.  With these three wonderful children I could go in so many different directions, we have beautiful group shots, really stunning portraits or action shots.  In the end I'm drawn to action and humour as I just think of laughter when I think of these children.  In fact, at the beginning of our session we went through the album from the last shoot we'd done together and the picture the children pulled out as their favourite was one of the funniest shots from last time.  It's always fascinating to see which the kids choose.
And so, I've gone with a picture that made me laugh.  A game of hide and seek.  I suggested we play sardines instead and so everyone could hide together.  With a wicked sense of humour, the children chose the 'easiest' place to fit the adults – inside the dog's kennel and this is the resulting picture.  I love it. The two children in the beautiful light of the doorway, peeking out with mischievous grins.  The parents' legs and feet showing so we know they are hiding there too.  It tells such a story of family fun, games played together and everyone enjoying the action and entering into the spirit of the game.
I admit I couldn't keep it to just the one shot as I felt this second picture fits together so well and also, it's lovely to show the possibilities in each situation.  This second shot, this beautiful portrait, is taken inside the dog kennel.  You wouldn't think it if you saw it on its own but that directional light and the soft wooden panels provide a wonderful studio feel to this beautiful soulful portrait. I love the look, quizzical and engaging, and how her hair has come untucked, the hairclip sliding down which is always such a clue to an action-packed morning.  I think this is just the kind of timeless portrait that she will be able to show to her grandchildren and which will fit perfectly with images that they may have of themselves, it's as timeless as it is beautiful.  Combining these two things, beautiful portraits and fun action shots that are full of personality are what my photography is all about.
If you like what you see here today from my recent family photography session in Gerrards Cross then do explore my blog further to see more images or browse the galleries on the website.  I'm taking bookings for the spring, into the summer and all the way up to Christmas now so if you have a date in mind for your family photo shoot then do get in touch, I'd love to hear from you.