Newborn Photography Prices Explained
Hi and welcome to my blog. If you've landed on this page it could be from Googling to find out about newborn photography prices. If so, I hope this article will give you a good indication of what to look for when assessing newborn photography pricing and help you to choose the perfect photographer for your family.
Newborn photography is a completely unregulated business and the costs and quality vary widely. As you look around the web you'll find photographers who have been in business for many years, with experience and awards under their belts, and others who, while they might have a small website, may still be yet to shoot their first paid newborn session.
Sometimes prices are an indication of skill and experience. Sometimes they're wishful thinking on the part of a photographer. How do you, as a new parent, navigate through this?
Understanding Newborn Photography Styles
The first thing you'll want to think about when choosing your newborn photographer, and which is actually more important than the price of your newborn photography, is style. You need to make sure the photographer works in a way you like and that they'll take pictures you love.
Styles vary hugely from natural black and white newborn images like mine to heavily stylised pictures which are often composites between a studio picture and a digital background. The choice is yours.
It isn't the case that one style of newborn photography is necessarily cheaper than the other. There will be experts in both areas alongside those starting out who'll be charging very little.
If you do want to have your family photographed in the very posed style of newborn photography where babies are manipulated into complex poses, then it's absolutely vital to go to a skilled photographer. Many of these poses are subtle digital composites and if done incorrectly can be dangerous.
For a more natural, lifestyle approach where you'll be holding your baby, or they'll be placed in natural positions and not balanced in unnatural ones, then these risks don't apply.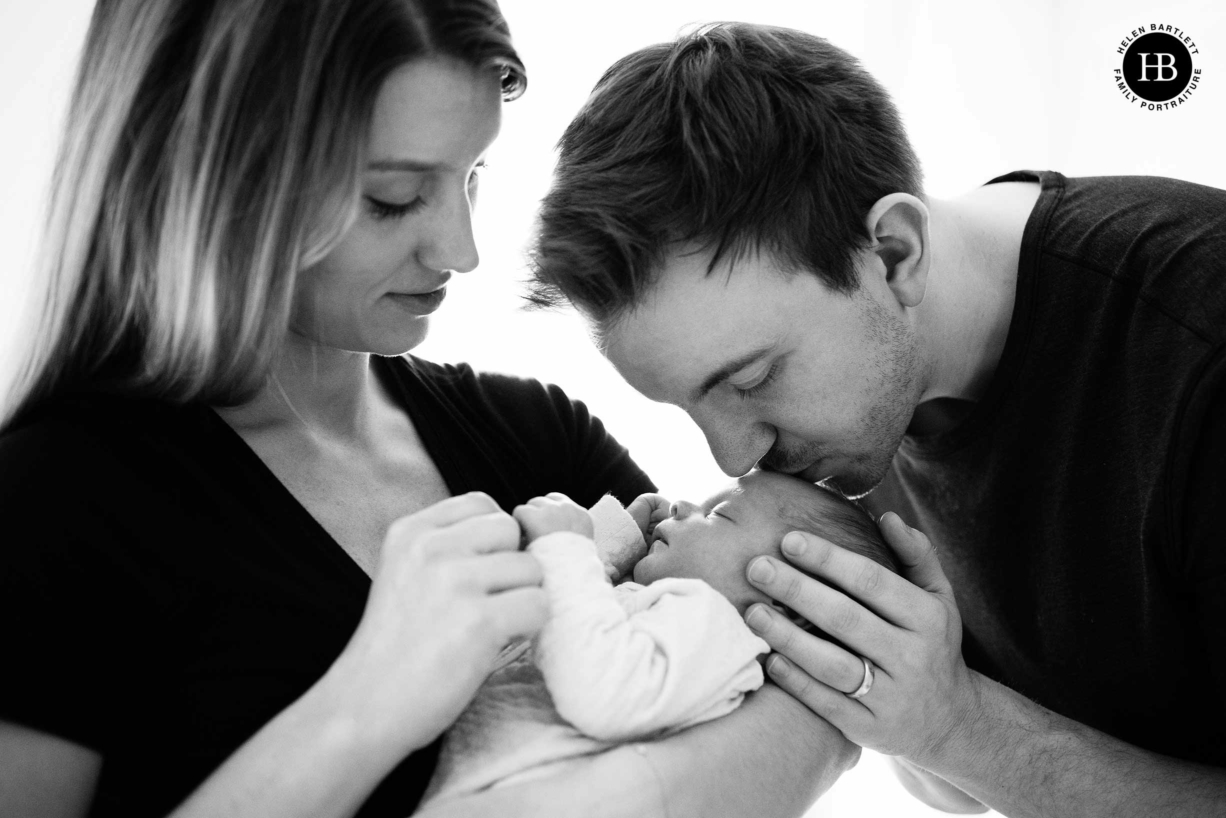 How The Skill of Your Photographer Is Reflected in Newborn Photography Prices
The skill and experience of your photographer is likely to be reflected in the prices they charge. As in all industries the experts charge accordingly and are worth every penny.
Look for value though: your photographer should be worth what they're asking. Do they have credentials to back up their claims? Can you look through an extensive portfolio and are there reviews to read through to see how other clients have got on.
Many photographers work with clients again and again over the years and this, more than anything, is a sure sign that they produce excellent work and are a pleasure to work with. Ask your photographer. They'll be happy to answer any questions you might have.
Do You Choose A Studio or At Home Shoot?
The two main venue options for newborn photography are at home or in the studio. Traditionally portraits were taken in the studio where photographers could create a clean background and a formal look to the images.
Over the years, fashions have changed and a lot more people are opting to have their pictures taken at home. This creates a lifestyle look to their images and includes the personal details of their everyday lives. Photographing at home has the added bonus of having everything to hand and not needing to travel with your newborn when they're tiny.
It's a personal choice so see which style of images you prefer.
Do You Choose a Newborn Photography Package or a la Carte Pricing?
There are two main ways that photographers organise their pricing: either newborn photography packages or a la carte. With newborn photography packages then the photographer will have chosen a selection of items that are frequently bought together and bunched them at different price points. The other option is a la carte where you can choose from a menu of different combinations.
Most photographers will charge a session fee as well to cover their costs, varying depending on the type of photographer they are. If you're visiting a studio for a very short session, say 20 minutes or an hour, you can expect a very small session fee or sometimes no session fee with all the costs included in the prints you buy.
If your photographer visits you at home for a longer session, with more time and skill taken in the edit and even an in-home viewing session, then your session fee will be higher. Often a photographer will have spent a couple of days working on your pictures before you buy your prints, so they need to cover their costs.  A low session fee tends to reflect less time, both on the session itself and preparing your images.
Many photographers will also have a minimum spend on prints after the session to ensure they make enough money to pay their bills.
Ask to See a Full Newborn Photography Price List
Asking to see a full price list before you book your photographer means you can be sure the prices fit within your budget. You'll also be able to assess if the products they have on offer are what you'd like to buy.
Most photographers will have an option to get the processed digital files, either included at a certain price point or available to purchase separately. Do remember that just buying the digital files on their own isn't necessarily the most cost-effective way of doing things if photographers also offer them included with a certain number of prints.  We all know how busy things can get and spending slightly less on the files but never making the prints is a false economy. When your photographer provides you with beautiful frames and albums, as well as the files for future reference, that often offers the best value. It's also the easiest and quickest way to get your prints up on the wall where you can enjoy them.
Comparing the Quality of Newborn Photography Prints and Products
The final piece of the puzzle in newborn photography pricing is the quality of the items you purchase. You'll have assessed the quality of the pictures themselves when you chose your photographer. So you can expect that if you've chosen an experienced photographer, your pictures will match the style and quality of those you've seen on their website.
But how about the prints? There's a huge difference between a cheap print from Snappy Snaps (and some professional photographers do get their prints from Snappy Snaps) and a beautiful archival fine art print.
Ask about frames. Some photographers will sell beautiful handmade frames, others will be off the shelf with prices to reflect that. You should be able to see examples of the products in the flesh either when you visit their studio or at your viewing session.
The same goes for albums. Have a good look at them. Are they well made? Are the covers high quality? Are they robust enough to stand the test of time?
With products you get what you pay for and beautiful high-quality items are unavoidably expensive. You'll keep them forever though so it's worth getting the best you can afford.
My Newborn Photography Prices
I hope this has been useful and given you a bit of insight into how newborn photography pricing works. If you'd like to find out more about my newborn photography options, my website is the place to go. On there, you'll find a dedicated newborn photography page, a guide to newborn photography at home and, as you may have clicked through to above, my full newborn photography price list.
If you have any questions, please don't hesitate to get in touch. I'd love to meet you and photograph your family.