A Guide to How to Display Your Family Photos
You've booked your family photo shoot and the excitement about seeing the images for the first time is building.
Your thoughts are likely now turning to how you're going to display your family photos. You'll want to look at these beautiful pictures and enjoy them every day, for years to come. But what is the best way to display family photos?
Like all your family photography choices, it's personal. Displaying photographs in your home is a lovely thing to do. Each day as you walk around the house you'll be reminded of fun times you've had together and it's lovely for children to see themselves up on the wall.
Equally, if you prefer not to hang photographs on the walls then there are other fabulous alternatives for arranging your photographs in beautiful albums that you can enjoy at your leisure. There's always an option to suit your family, lifestyle and aesthetic.
Choosing Framed Prints for Your Family Photos
Statement pieces
One of the ways to make the biggest impact with a family photo is to print something really big. I just love creating fabulous statement art pieces for my clients' homes.
Printing an image at 50 inches across or even bigger produces a wonderfully joyful centrepiece for any room. Working together we can create the perfect statement image for your wall. Then we can choose the ideal form of framing whether that's a classic handmade tulip wood frame with a white mount or a more modern alternative such as an aluminium or acrylic.
Gallery hangs and grids
If you prefer the idea of a series of images hung together, then a gallery hang or grid system is the style for you. Gallery style groupings are becoming increasingly popular, mixing up sizes and shapes to give a feeling of dynamism to the display. Staircases are a wonderful spot for a gallery hang or in a hallway where you're going past the pictures frequently and so get to enjoy them on a regular basis.
Home offices are also becoming a more common spot for framed prints as with working practices changing we're spending more time at home.
Grid systems, made up of numerous frames of the same size, are also very popular and work brilliantly for a really beautiful display. A grid system on the kitchen wall can be built upon over time plus it's easy to swap images of the same size around within the display as the family grows.
It's lovely to hang prints in the children's bedrooms too and I always love it when children choose their favourite images for their own rooms. Often it's something unexpected that makes them laugh and you know that if they've chosen it it's an image that makes them very happy.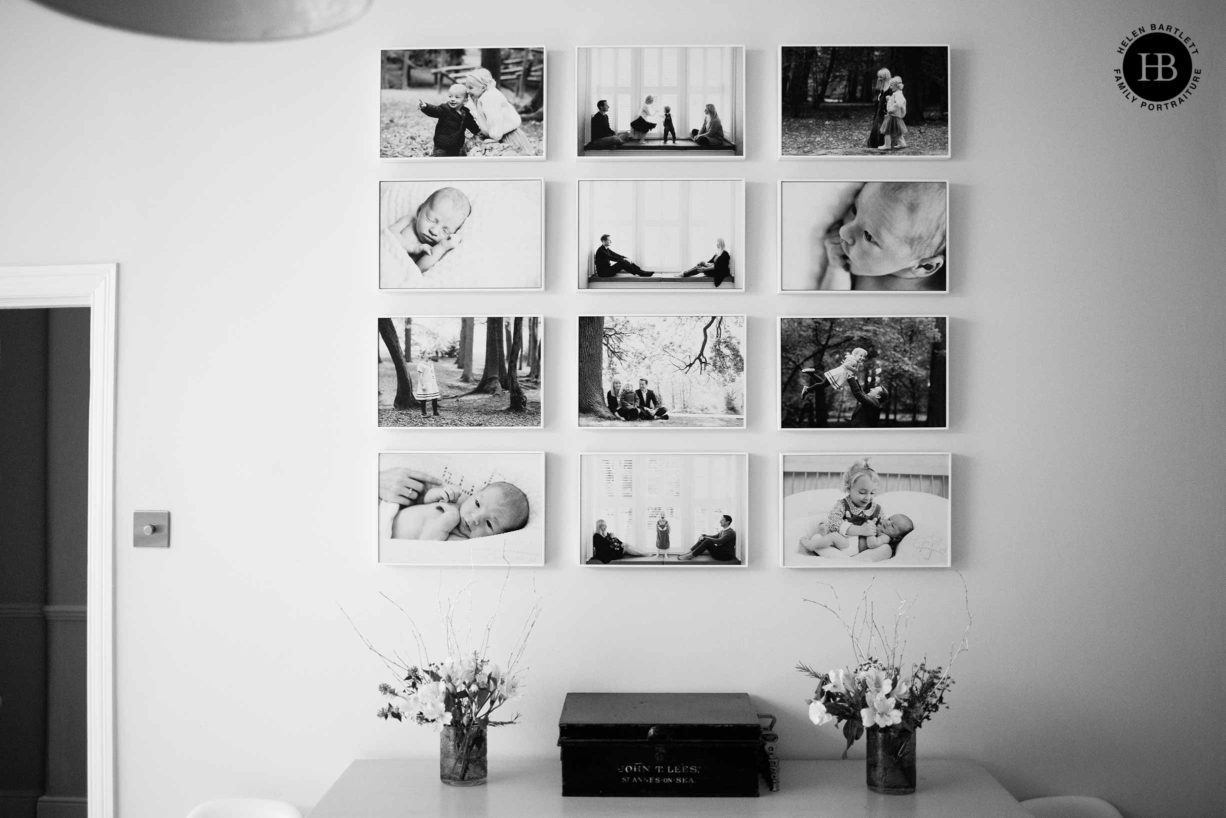 Frame Styles
Classic frames
Classic frames are always a good choice for displaying your family photos as they'll never go out of style.
Black or white wooden frames with a simple white mat have been the choice of art galleries for generations. Images framed this way will always look up to date and black and white images in particular can sit together happily from one generation to the next
I have images from my childhood hung on my wall next to images I've taken now, and also images of my parents and grandparents as children. Classically framed and all in black and white, they all work perfectly together.
Tray frames, acrylics and aluminium
For a more modern look when displaying your family photos then tray frames, acrylics and aluminium are all an ideal choice. Designed to have minimal (or no) frame, the whole area is taken up with an image so you get more impact for the space available.
Tray frames are beautiful archival photographic prints mounted without glass into a box frame in either black or white. They look striking on a wall and also look wonderful on a shelf or mantlepiece if you want impact on a smaller scale.
Prints mounted onto a sheet of aluminium have a fabulous contemporary look. Mounted on a metal subframe (as are the acrylics) they appear to be floating on the wall and look absolutely stunning in modern homes.
Acrylics are particularly well suited to rooms where there might be some moisture and so are perfect for pool rooms, bathrooms and kitchens where the surface of a traditional print would get damaged. At home I have acrylics in my kitchen and bathroom. They look amazing and are always admired by guests who visit.
Building your family photo collection over the years
Always have a thought to the future when planning how you'll display your family photographs on the walls, as your family will grow and change over time.
No matter how cute they look, try to resist the temptation to fill all available wall space with images from your child's newborn session. Instead get a few frames that look great together and then add to the display over time, building a grid or a gallery hang.
This way your images can stay up to date while also bringing back memories of earlier times. It's wonderful to have images taken over the years hanging together. Each one will remind you of a different time and bring a smile to everyone's face.
Choosing Albums for Your Family Photos
If you prefer to keep your family pictures off the walls, then albums are the perfect solution.
Albums are one of the most popular products from my family photo shoots and are a stunning way to tell the story of your day in a beautiful heirloom book that will last for generations.
I love albums as they tell the whole story. We can mix pages with big, stand-out images for maximum impact alongside a selection of smaller pictures to tell a more nuanced story. I find that images can be arranged in patterns around these little stories, capturing moments of calm or dynamic action. Finding a rhythm to the pictures is a joy.
I pre-design albums for all my clients after their photo shoot to create an album that, I feel, tells the story to its best advantage. Then we work together to make any tweaks that might be necessary, perhaps increasing the prominence of any favourite pictures to make sure your album is perfect for you.
I have albums from my own childhood and love flicking through the pages, thinking back to special times and places. Your albums can work this same magic for your children.
Many clients will keep an album out on the coffee table to look through regularly with their family and friends. They're a unique talking point as well as a source of joy for the whole family.
Albums can be personalised with your choice of leather cover and text, and a collection can be built up over the years to tell the story of your children's lives. Many clients have been collecting annual albums for over a decade now. What a wonderful thing to have and eventually hand down to the next generation.
Mini albums
Mini albums are always in demand and available in conjunction with my large family portrait albums. These mini copies are scaled down replicas with the exact same personalised design as their bigger counterpart. They make perfect gifts for grandparents and are also a lovely present for your children if you'd like them each to have a copy of the album when they grow up.
These mini albums can be personalised with your child's own name on the front which looks beautiful. Imagine having a library of albums from your childhood to take into your adult life: pictures to look back on with love and laughter.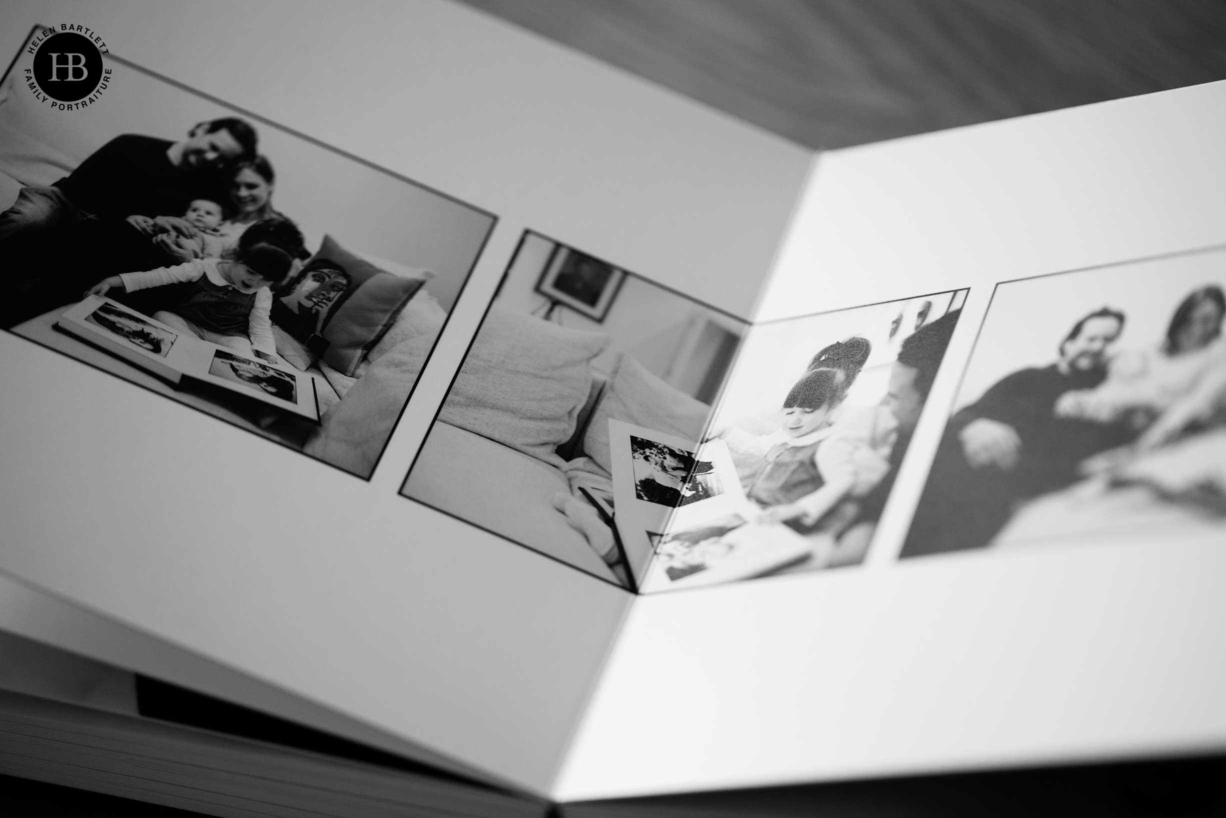 Unframed prints
Unframed prints can be used in so many different ways and I love to see how my clients have used them around the house.
You may wish to frame your prints yourself and build a beautiful gallery wall. You may love a crafting project and place the images in beautiful albums or scrapbooks that you've created for your children. Or you might have your own frames that you've been given, or have chosen, that will be perfect for a sideboard or mantlepiece. You may even just love to Sellotape your favourite prints to your fridge (I know I do).
Unframed prints give wonderful versatility and can be ordered in any size up to 12×8. It's no problem to print to unusual shapes or sizes to fit your needs.
Digital files
Digital files are also a wonderful investment for the future. I include the processed digital files in all orders over £1995 as I know my clients love to have beautiful framed prints for the wall, stunning albums and also the security of having the digital images.
These can be used to make your own prints or to create photo gifts (I love a photo mug myself). They can be shared with your family and friends on Instagram and Facebook or sent to Granny in an electronic photo frame or to enjoy as her screensaver between Zoom calls.
You may even find the kids enjoy using them as part of school projects, creating their own art and collages from these beautiful portraits. Images have a life of their own and the more they're looked at, used and enjoyed the better. It's an investment to have beautiful family photographs taken and wonderful to enjoy the pictures in different ways over time.
Your Family, Your Home, Your Style
As you can see there are so many different ways you can display your family photos and I hope this blog post might have given you some new ideas to think about.
Together we can create the perfect solution for you, whether that's gorgeous frames for the wall or an incredible album to treasure, or both.
Working with brilliant printers and framers you can be sure that however you choose to display your family photos the results will be exactly what you pictured. Together, over time, we'll create the most incredible photographic history of your family for you to enjoy for many years to come.
If you would like to find out more about my photography please explore the website where you can find dedicated pages for family photography, baby photography, newborn photography and photography with teenagers as well as information about how my sessions work and recent press coverage. If you have any questions about how to display your family photos or would like to book a session then please get in touch, I'd love to hear from you.